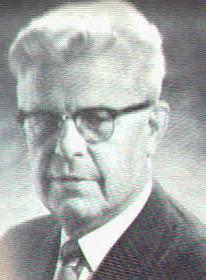 Walter Beuttler
The Holy Anointing Oil
Exo. 30:22-33
Walter Beuttler / Pete Macinta
Introduction: To my knowledge, the original author of these notes wherein the composition of the Holy Anointing Oil is described was Walter Beuttler who was an instructor at Northeast Bible Institute, Green Lane Pennsylvania. As a young person and a very young Christian, I originally thought that Bro. Beuttler was just a tad on the odd side in his view on the spiritual realm. I have sinced changed my mind, and thank God I had the privalage to sit under his teaching ministry. Due to his teaching I gained a deep appreciation for and a better understanding of the Old Testament Scriptures.
Bro. Beuttler had many of his notes for sale at the local campus book store and I thank God I had the presence of mind to purchase some, especially the set that contains the following information on the composition of the Holy Anointing Oil and what those elements mean to us. I have added some of my thoughts throughout much of this the study.
It was this particular set of notes where Beuttler described the meaning of the elements of the Holy Anointing Oil that impressed upon my mind the richness of the blessings of the OT and has encourgaged me to dig into depth of the treasures of all of God's Word.
I forget when, but Bro. Beuttler has since been promoted to glory. Had he remained in his body to this day, I would venture to say that he would definitely agree with my comments.
Precious Oil,
The Holy Anoining Oil Of Exo. 30:22-33
Ex. 30:22-33, 40:9 - 15, Psa. 133
Basic Outline of Precious Oil
I. It's Composition, vs. 22-24
II. God's Caution, vs. 32- 33
III. Our Consecration, vs. 26- 33, 40:9 & 10, and Psa. 133
---
I. It's Compostion Ex. 30:22-24
A. Myrrh (suffering)

| | |
| --- | --- |
| 1. | This speaks of the suffering in body, soul, and spirit that Jesus endured because of His love for us. |
| 2. | Myrrh is bitter to the taste. So is suffering. |
| 3. | Through Christ, as we graciously endure suffering, the result is the fragrance of an anointed life. |
B. Cinnamon (joy)
| | |
| --- | --- |
| 1. | The flowers of this tree have a disagreeable odor. Hence, this speaks of the world's inability to comprehend a Christian's joy in the midst of trials. |
| 2. | Cinnamon improves the flavor of bitter substances. As we yeild to this second fruit of the Holy Spirit, we become stronger in our ability to face the trials of life. |
| 3. | Myrrh/ Cinnamon - Suffering and joy are mingled together - a beautiful facet of the person of Christ! |
C. Calamus ( the Christlife Itself )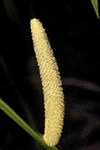 | | |
| --- | --- |
| 1. | This reed scents the air while it grows. We too must emit the presence of Christ as we grow in Him. |
| 2. | Calamus is used in the richest perfumes. We too can become rich in Christ. |
D. Cassia ( victory )

| | |
| --- | --- |
| 1. | Cassia has purple flowers which speaks of the royalty and dignity of Christ |
| 2. | It also grows in high altitudes. This speaks of victory, living above the things of the world. |
| 3. | Used in incense - prayer. |
| 4. | Used on garments - our righteousness must be the righteousness of Christ. |
II. God's Caution- Ex. 30:32-33
A.
It was NOT to be poured on plain flesh. Hence, the unsaved cannot have these blessings. Upon our salvation we becme be a king and priest to God. As such, we must endeavor to minister as a priest before God and to all men. We need to begin with ourselves first (Heb. 7:27), then our family, then to others.
B.
Again, it was NOT to be poured on plain flesh. We should not expect God to bless OUR efforts, - only HIS works through us.
C.
Some may claim to have the blessing of the Spirit, but do not, for they deny the purpose and power thereof, to make us holy. (2 Tim. 3:5)
D.
NO immitations are to be made. " . . .neither shall ye make any other like it, after the composition of it: it is holy, and it shall be holy unto you." Though this holy oil represents more than speaking in tongues, I wish to note that tongues can be faked. Those claiming to be led by the Holy Spirit need to match His written Word in speech and in deed.

In the late 60's and 70's it seemed as if the Holy Spirit was being poured out upon ALL denominations, even those which denied salvation by grace alone, held a shallow view of the fact that we must be born again, and/or neglected a life of holiness. Yes, we do have a forgiving God Who displays great patience in waiting for our repentence, but the fact remains if this IS the Holy Spirit then eventually there should be a change in the recipient's life so that he / she follows what the Word of God says. I cannot fathom how one can claim to be born again and speak in tongues and continue to pray to Mary or anyone else other than God. ( see 1 Tim. 2:5, Psa. 73:25, Jer. 7:18, Jer. 44:17-25 )

As mentioned above, some denominations water down the born again experience, in some case confusing it with water baptism or church membership or not even mentioning it at all.

It has even got to the point in our time that there are "born again" homosexuals that continue in homosexuality and "speak in tongues".

E.
NOT poured on strangers. Here I wish to point out to any reader that has not been born again in Christ to realize that if they give their lives over to Christ, the refreshing and powerful blessings of the Holy Spirit await those who wish to partake of His cross. God does not want you to be a stranger to Him. He desires to live and reign in our heart. Let Him
III. Our Consecration- Ex. 30:26-31, 40:9& 10, Psa. 133
| | |
| --- | --- |
| A. | The Tabernacle was anointed. -And thou shalt anoint the tabernacle of the congregation ... As a devotional aid, the tabernacle is considered a "type" of the individual Christian and a "type" of the church, the collective body of Christ. Hence, the following comments shall apply to both the individual Christian and to the collective body of Christ, the Church. Both the individual Christian and the body of Christ as a whole should enter into the fulness of the richness in Christ represented in the Holy Anointing Oil and its' application. The devotional description of the elements ( suffering, joy, the Christlife, royalty, dignity, victory ) applies to the various areas listed below |
| B. | and the ark of the testimony The very place where God would speak to Moses, the mercy seat which sat upon the Ark being anointed with blood. Hence, our daily fellowship with God should be enriched with His Spirit anointing. In regards to the mercy seat, intercession for the lost and spiritually weak needs to be anointed with the precious oil of the Holy Spirit. In reachinga out to a lost world we must bear suffering, yet exude the joy of Christ, while growing in Him and striving to live in victory in Him. |
| C. | And the table and all his vessels Most likely the table of Showbread. Jesus declared Himself to be the bread of heaven ( Jo. 6:51 ). The anointing of the Holy Spirit in our lives facilitates the growth of the personality of Christ in our lives. |
| D. | the candlestick and his vessels As we partake of the anointing of the Holy Spirit the light of Christ within us becomes brighter, enabling more to come to His salvation. |
| E. | the altar of incense Anointed prayer is vital to the walk in Christ. It is vital in intercession and spiritual warfare. Our intercession should be permeated with this anointing. Indeed we may mourn at first, and we should, but, envisioning the Sovereignty of God and His faithfulness to His Word brings us to realms of victory. The Calamus would speak to us that as we intercede for others, we too are changed. This is exactly what happened to Moses. At first, the man did not want to go to Egypt to lead God's people out. After they are led out and they sin with the golden calf we see Moses begging God not to wipe out that nation! |
| F. | the altar of burnt offering with all his vessels Varied sacrifices occured here, but, in our daily lives, wether we ask God to forgive us or thank Him for His blessings the anointing of His Spirit needs to permeate our spirit. |
| G. | the laver and his foot. Our forgiveness of ourselves and of others is enhanced by His Spirit Anointing. |
| H. | And thou shalt sanctify them, that they may be most holy: All born again believers are priests and kings ( or if you prefer, "a kingdom of priests" ). In daily serving others, may our lives be saturated with the Holy Anointing Oil. |
| I. | whatsoever toucheth them shall be holy. Wow! These avenues of fellowship with God are drenched with His Spirit. God grant that we deny the flesh and enter into His Anointed Presence. |
| K. | And thou shalt anoint Aaron and his sons, and consecrate them, that they may minister unto me in the priestís office. Every true born again believer has the office of priesthood. Consider it both a privalage and a duty. |
| L. | And thou shalt speak unto the children of Israel, saying, This shall be an holy anointing oil unto me throughout your generations. It is our duty to share the blessings of holiness through an anointed life with all sucessive generations of Christians. |
| M. | Note that in segment of Exo. 40, the children of Aaron were anointed. If we have physical children, we are obligated to share with them the blessings of the Holy Spirit. |
| N. | Behold, how good and how pleasant it is for brethren to dwell together in unity! Unity should reign amongst true brothers and sisters in Christ. Please bear in mind that there is real Christianity and nominal Chritianiy. The real body of Christ gains nothing and loses much as it persues eccumenical avenues. |
| O. | It is like the precious ointment upon the head, Consider that all temptation to sin must enter our mind. May we always where the helmet of salvation and have our minds anointed with the Holy Spirit. |
| P. | that ran down upon the beard, even Aaronís beard: I gather from various OT passages that the beard played a role in a man's honor. Truly, as we honor God and His Holy Spirit, we grow in favor with God and with man. |
| Q. | that went down to the skirts of his garments; Now this speaks to me of the Baptism of the Holy Spirit whereby tongues is in evidence. Why do I say that? Luke 24:49 And, behold, I send the promise of my Father upon you: but tarry ye in the city of Jerusalem, until ye be endued with power from on high. W. E. Vine points out that the Greek word for "endued" can metaphorically be rendered "clothed". The Greek word for power denotes might. Hence, it seems the picture here is one of armour that fights for us. The endument with power in Luke coincides with the outpouring of the Holy Spirit on the day of Pentecost. Despite what some others may feel, I believe every true born again Christian has the Holy Spirit ( check it out in 1 John 2 ), but, there is the place where one can be so filled with the Holy Spirit that it overflows. Picture a glass with some water in it. Now pour more water into. Keep pouring and it will reach the top of the glass. Keep pouring and it overflows the glass, somewhat covering it. You could say that the glsss is clothed with water. Many times, to be "baptized" brings to our mind being covered with water since the Scripture declares that we are buried with Him in Baptism. So, the Baptism of the Holy Spirit would indicated that we are filled to overflowing, and therefore covered with the Spirit. Psalm 133 shows that the Holy Anointing Oil got upon Aaron's garments. |
| R. | As the dew of Hermon, and as the dew that descended upon the mountains of Zion: The freshness and purity of the Holy Spirit! |
| S. | for there the LORD commanded the blessing, even life for evermore. Every living thing on this planet needs water to survive. In the spirit man we the freshness of the Holy Spirit everyday in our lives. The Holy Spirit activates the Person of Jesus in our lives. I am come that they might have life, and that they might have it more abundantly. |
| T. | Conside that most likely some of the Holy Anointing Oil fell upon the chest of Aaron, indicating that our heart and our soul needs to be anointed. We must decide to remain loyal to Christ and choose to have our hearts anointed by the precious Holy Spirit. |
| U. | Psa. 133 - in actuality, are entire being needs to be covered and permeated by the precious Holy Spirit in all of the beautiful Christlike qualities it presents. |
Some FAQs On The Holy Spirit
I plan to add to this part and make it its' own page in the future.

1. Does a person have to speak in tongues in order to be saved?
No, no such command exists. Some Pentecostals / Charismatics might come to that conclusion by looking at the Scriptures in a certain way. However, the Scriptures note many instances where people were converted but they did not speak in tongues nor is it indicated that they were encouraged to recieve the Baptism of the Holy Spirit. The Ethiopian Eunuch in the Book of Acts is one.The Ethiopian Eunuch in the Book of Acts is one.

2. Is everyone that speaks in tongues a Christian?
No, it can be, and has been faked. In fact, in NT and OT many paganistic priests and priestesses would give estatic utterances.

3. How can you tell when someone is faking tongues?
If you are born again, ask God to make you sensitive to His leading. As you read the Word of God and truly walk in his presence, you will discern more and more what is valid and what is not valid.

4. If someone speaks in tongues, should there not be an interpretation?
Not all the time. The requirement that there should be an interpretation is found in 1 Cor. 14. The church at Corinth had a little trouble keeping their service in order and it seemed like almost the whole service was in tongues. Hence, the direction in 1 Cor. 14. Also, there is no record of an interpretation at the home of Cornelius ( Acts 10 ). Check the Greek words used for "gift" of the Spirit in Acts and 1 Cor 12 - 14. They are different. In acts it is "DOREA" and its' derivitives and in 1 Cor. 12 it is "CHARISMA". "DOREA" denotes a gift in the sense of a birthday gift. "CHARISMA" means gift in the sense as we would use it as a "gifted" pianist or painter. There are times too in private prayer that one may flow with tongues and there is no need for interpretation.

5. Aren't tongues supposed to stop?
Yes, when that which is perfect is come ( 1 Cor, 13:10 ). Read the remainder of those verses 11 to 13. Read specifically 12, viz, For now we see through a glass, darkly; but then face to face: now I know in part; but then shall I know even as also I am known. Looks like we have not reached that point yet. Some feel that "when that which is perfect is come" means the completion of the Bible, yet, as just noted, the context would deny that. Some claim that tongues stopped after John wrote Revelation, but that is not true. Apparently it died off to some degree by 200AD, but, in my opinion it was due to sin in various forms including undue church politics.

6. Wasn't it just a miracle of hearing on the day of Pentecost?
Direct from the Bible we read . . . and began to speak with other tongues, as the Spirit gave them utterance.

7. Tongues may be OK for you, but it is not OK for me.
Peter on the day of Pentecost showed it ( the DOREA ) was for every believer. Acts. 2:14 - 41.
---
© 2000, Macinta Ministries, but you may duplicate without changes for personal use.