Some Scriptures About Animals
A Lesson On The Rapture By Velvet And Nat
At first, Dorcas and I did not want pets. I really did not hate animals, but I did not want them around. While pastoring in North Carolina, cats would like to congregate not too far from the back of the parsonage. That was too close for me, so I would trap a few and move them away a few miles. However, while in North Carolina, we had a pastor friend named Tim Moose. He had a cat. Since it was his cat and his cat would remain at his house I would pet the critter. Then it happened. One day when we were visiting Bro. and Sis. Moose, I was petting his cat and Bro. Tim said to me "You know Pete, I think God gave us animals to enjoy them." That phrase stuck in our mind.
Soon, we began to befriend strays at another church in Flintstone, MD. Our first IN HOUSE pet was a fluffy longhaired cat named Mittens who's owner had to give him up.
Currently we have TWO in house pets. They really belong to my son Jon.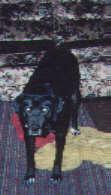 Velvet is a mixed breed dog. Her mother was a Water Spaniel / Terrier, but no doubt had a touch of Collie in her since she died from a small dose of medicine lethal to collies administered by a local veterinarian. The papa dog was probably part Doberman and Rottweiler. Velvet has a black spot on her tongue typical of Rottweiler. She has a very hard head and is a very good watch dog.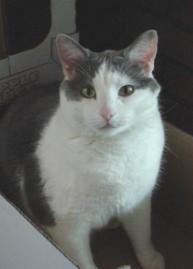 Nat is a short haired Honor Society cat (although there are times that he does not act like an Honor Society cat). We permitted Jon to get him since Jon made it into the Honor Society. Nat is bold, unafraid of water nor of Velvet. In fact, Velvet keeps her distance at times!
Both animals are featured in the above link on the Rapture Lesson.